You know that wonderful feeling you get when you meet new people and learn?
When was the last time you felt it?
It's been a while, hasn't it? And that goes for many of us.
These are difficult times.
We all miss those times when you could be in a room full of people, or participate in a masterclass with an expert speaker.
Those were great times.
Well, what if I told you that there is a brand new app that makes all this possible again?
It's called Clubhouse and it is the hottest thing in social media world right now.
What is Clubhouse?
Clubhouse is a new social network app that is based on voice only. So, it's all about speaking and listening.
Currently, you can only get access to the app by invitation, but that will change in the future, according to the founders.
You can download the app on your Apple device, and it will soon also become available to Android devices.
You create a profile and write a bio about yourself, so that others know what you're interested in.
Then, you can start following lots of fascinating people, like musicians, scientists, parents, entrepreneurs, artists, and of course, language learners and teachers.
Based on your interests, the app leads you to a 'hallway' of rooms. This 'hallway', or 'feed', looks like a list of rooms and shows you what is going on inside those rooms. You can see what the topic is, how many people are in the room, and how many people are speaking.
From here, you stumble upon countless talks, discussions, performances, speeches, and lessons, on topics that you may be interested in.
It's really easy to spend hours and hours relishing all the incredible content on this app.
But it also works wonders as a super useful tool to improve your English and prepare for the C2 Proficiency exam.
Sounds great, right? 
Let me help you make the most of this wonderful new app. I am going to explain how Clubhouse works, and I am going to show you 10 ways the app can help you improve your English and pass the C2 exam.
1. Listen to people speak
From the 'hallway', it is easy to 'drop in' to a room. Simply tap on the room to enter. You are automatically on mute and you can listen to the speakers for as long as you like. If you want to leave, simply tap the 'quietly leave' button.
Clubhouse is a dream come true for everyone who's ever tried to find authentic, meaningful English conversations to listen to. Drop in to any of the rooms to listen to real, exciting content.
While listening, you build your vocabulary, you get familiar with grammar structures and you hear idioms being used in context.
There is no better way to prepare yourself for the C2 listening paper than to expose yourself to a wide range of spoken English, in different voices and accents. And that's exactly what Clubhouse offers.
2. Join conversations
To join a conversation, you click on the 'raise hand' button to let others know that you want to say something.
The moderator of the room can then give you the ability to speak. When you become a speaker, a mute/unmute button appears, which you can tap to mute or unmute yourself. It's polite to stay muted until you are really going to say something.
A room on Clubhouse is a super safe place to practice speaking English in a natural and spontaneous way. Of course, there are certain rules and etiquette, which you can find here.
Joining a conversation on Clubhouse is a priceless opportunity to practice C2 speaking skills such as turn-taking and responding to your speaking partner.
3. Create a room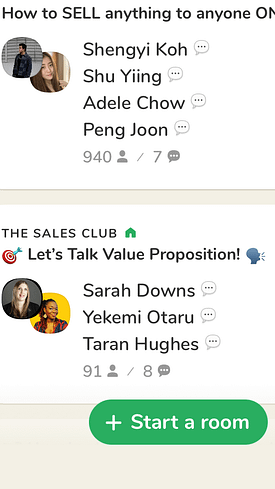 Feeling ready to lead a conversation? You can create a room on Clubhouse by tapping the big green + Start a room button.
As the moderator of the room, you get to pick the topic, and you decide who can and can't speak at any one time. Tap on the picture of the other users in the room to invite them to speak, or to mute them, or to remove them from the room.
Anyone can enter an 'open room', but you can also create a 'social room' which is only open to the people you follow, or you can create a 'closed room', where you personally invite a select group of people.
You could choose 'English Learning Tips and Tricks' as a topic, for example, or just about any other topic.
Moderating a room on Clubhouse really takes your speaking skills, as well as your people skills, to the next level.
Being in charge of a conversation is also an excellent way to refine your sense of knowing when not to speak. During your C2 speaking exam, it's important to know when to be quiet and let your speaking partner have their moment.
4. Ask questions
Do you have a burning question?
Many rooms on Clubhouse revolve around questions, about products, films, or current news topics. The answer might well come from someone with insider knowledge or first-hand experience.
So, if you have a question about a particular grammar point, or if you want to ask a question about the spelling or pronunciation of a certain word, drop into to a room with a related topic, or create a room for that topic and ask away.
In the same way, if you have a specific question about the C2 exam, you can find someone with experience in C2 and you will get a well-informed answer.
5. Ask for feedback
Do you want to know what others have to say about your ideas?
Many rooms on Clubhouse are set up to receive feedback, about ideas, services or products, from peers as well as experts.
So, if you want to know what others think of your level of English, or if you want to bounce your ideas off of someone, go to a room with a related topic, or create a room for that topic, and receive priceless feedback that helps you improve.
If you need feedback on your C2 writing and speaking tasks, or if you want to know if you are ready to take the exam, you can find someone on Clubhouse who can offer constructive feedback and helpful advice.
6. Join a club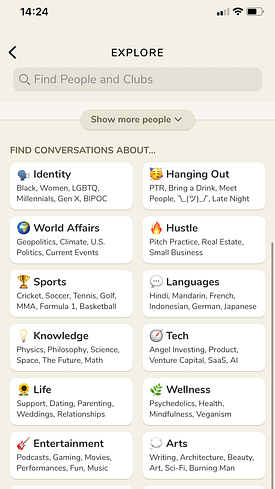 You can find clubs on the events calendar, on people's profiles, or in the hallway of rooms. A room with a green house icon next to the title is a club hosted room.
There are clubs for all sorts of likings. Some clubs organise regular meetings and are open to anyone.
You can join a 'Learn English' club with likeminded people who are on a similar level as you, to learn together and have fun.
There will also be a 'Cambridge Exam Coach' club for you to join and get ready for the C2 exam together with other candidates.
7. Start a club
If you can't find the exact club you are looking for, why not start your own club?
Right now, the app is still in the experimental phase of setting up clubs, so you need to submit a club request form to get it set up. In the future, there will be feature in the app that lets you set up a club instantly.
Many activities for English learning are best done in a group. Think of setting up a conversation club, or a reading club, or a club around a certain skill, a theme, or a topic.
Or, you could set up a club to connect with other C2 candidates so that you can do C2 preparation activities together.
8. Join a class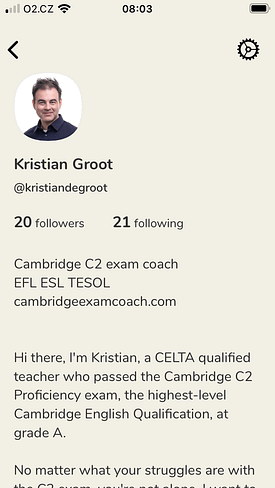 On clubhouse, you can join a classroom with a teacher or exam coach and other students. Tap the calendar icon to see who is hosting a class at which times.
Soon enough, there will be teachers and exam coaches for all levels of English and with all manner of teaching styles.
From Saturday 20 February 2021, @kristiandegroot will organise C2 exam preparation classes for a limited number of exam students, several times a week.
9. Take private lessons
Clubhouse is quickly becoming a great platform for sharing knowledge, and there are many teachers, trainers and coaches for you to find and follow.
Tap the person+ icon to search for or browse through other users to find a teacher who you like and trust. Get in touch through their linked social media channel, such as Facebook, and arrange to create a closed room on Clubhouse for a private lesson.
Learning with a private teacher could make all the difference in your English learning experience.
10. Join our sessions on Clubhouse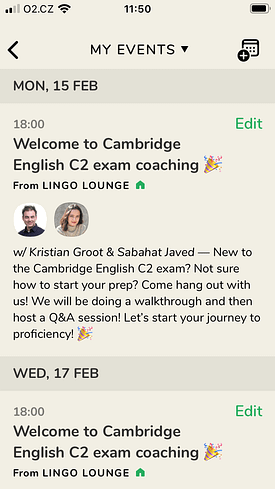 After reading all the way to this point, you'll understand we're super excited about how Clubhouse could help you master English to an exceptional level.   
To help you getting started, we're organising sessions on Clubhouse about all the different C2 exam tasks, mock speaking exams, book discussions, and motivation sessions.
To keep up to date and receive the latest info and news about our rooms on the app, join the mailing list at the bottom of this article. This way you never miss out on any free classes and Q&A sessions.
See you soon on Clubhouse?
Have you already received an invite to join Clubhouse?
Then don't wait, go ahead and download the app.
There may be lots of social media apps out there, but Clubhouse is really something special.
With the information from this post, you know how to make the most of your Clubhouse experience to improve your English and pass the C2 exam.
All that's left to do, is for you to join rooms on Clubhouse to listen, talk, learn, laugh, be entertained, meet and connect.
Now, you can finally have that great feeling again that you get when you meet new people and learn.
So let's do it.
Let's use Clubhouse to learn English and ultimately pass the C2 exam.
See you soon on Clubhouse!
P.S. Any questions about Clubhouse or our activities on the app? Send Kristian a direct message on Facebook, Twitter, Linkedin or write an email.