You're listening to Cambridge Exam Coach, a podcast for ambitious learners of English. This is the show where you can prepare for your Cambridge exam at the same time as improving your English.
I'm Kristian, your host, today it's Sunday 16 May 2021, and in this episode we're going to do another C2 exam exercise together. To be more specific, we're going to practice Reading and Use of English part 4: key word transformations.
Are you ready? Here we go!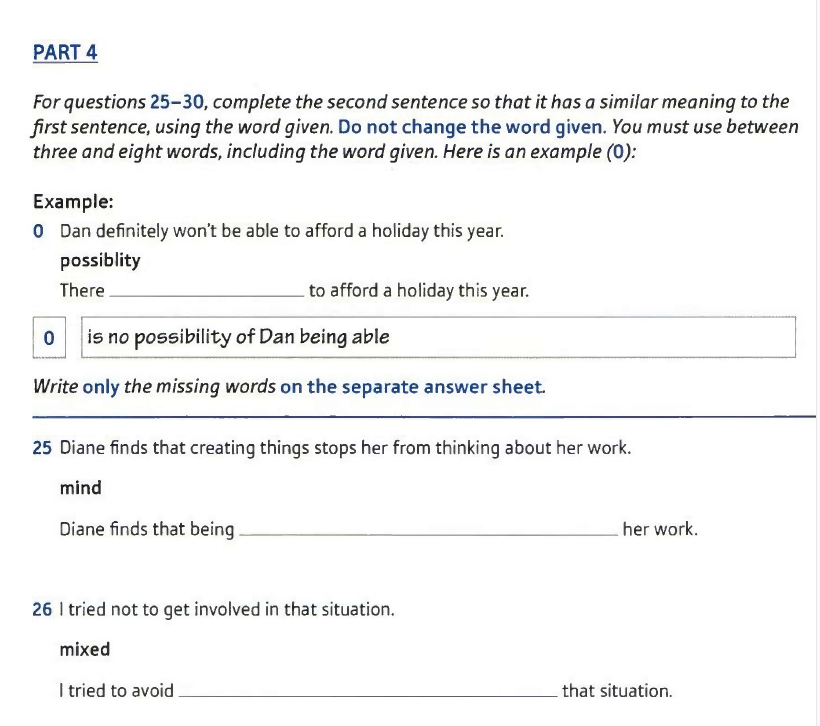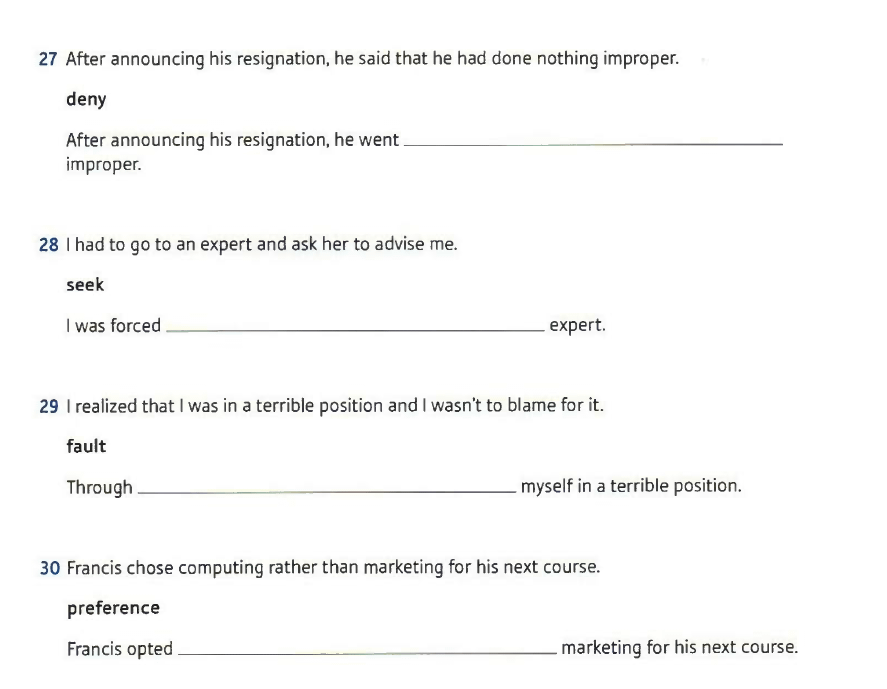 Hello dear, dear listeners, how are you doing? I hope you're doing great. Here is another episode of the podcast series in which we practice a C2 exam exercise, and as usual the aim here is to work on improving your English in specific ways, focusing mainly on vocabulary first and then grammar as well.
I should say that the transcript for this episode is on my website, and you can follow along with me there if you like. But before get down to the nitty-gritty of key word transformations, I'd like to tell you about a new project I've started together with Elizabeth Bedrik. The project is called 'The Road to Proficiency' and our goal is to document Elizabeth's six-month journey to proficiency.
Let me tell you a bit more about Elizabeth. She is a Russian interpreter, translator, tutor and language and literary researcher. She really wants to take the C2 Proficiency exam in December 2021, because she understands that it will give her many opportunities, whether it is studying, working or establishing a business abroad. BTW, those are her own words, not mine.
According to the Cambridge level test that you can find on the Cambridge English website, Elizabeth's current level of English is B2/C1. I think that's fairly accurate, though I do think that her reading and listening skills are advanced.
If you want to practice your English and become proficient just like Elizabeth, then do join us on our exciting journey!
You can join us on Clubhouse, where we organise rooms which are scheduled every week on Tuesday and Thursday at 4pm CET, Elizabeth and I will be practicing twice per week to help Elizabeth (and hopefully you too!) prepare for the Cambridge English C2 exam in December 2021.
We'll be covering a range of activities. Not only old exams, but also other topics like motivation, idioms, phrasal verbs, collocations and so on. Simply put: we'll talk about every topic under the sun that can help Elizabeth pass the C2 exam in December.
Pretty soon you can also listen to us on this podcast. I don't want to give away any details, but I can promise you that it's going to be awesome and super useful for everyone who wants to keep getting better and better at English.
As you can hear, I'm absolutely delighted that Elizabeth has committed herself to this challenging project, and I can't wait for you to join us! The last thing I want to say about this project is that we have an Instagram account. You can follow The Road to Proficiency project on Instagram @theroadtoproficiency.
OK, let's continue our regular program now.
On this podcast we're working with exercises that you can find on my website. So how does this work?
1. Go to the transcript of this episode. You can find the link to the transcript in the description of the podcast.
2. In the transcript you can see the exercise at the top of the blog post. You can now do the exercise. It won't take more than 10 minutes.
3. Last but not least, you can listen to this episode, check your answers & build your vocabulary together with me.
Alright, let's start then. Today we're doing part 4 of the Reading and Use of English paper of the C2 exam. Here are a few tips for you on how to prepare successfully for these parts of the exam.
Tips for Part 4 Key Word Transformations
Part 4 consists of six key word transformations, plus one example. Each question contains three parts: a lead-in sentence, a key word and a second response sentence of which only the beginning and end are given. You have to fill the gap in the second sentence so that it is similar in meaning to the lead-in sentence. You must use the key word in your answer and you must not change it in any way. If you do not use it or if you alter it, you will not be awarded the marks.
Your answer must consist of three, four, five, six, seven or eight words. If you write more than eight words you will not be awarded the marks. Contractions count as two words (don't = do not). Each transformation is divided into two parts, each worth 1 mark, so you may score 0, 1 or 2 marks depending on the accuracy of the response.
Alright, I'll now start reading the complete text with the correct answers. So I assume you've downloaded the exercise and did it, OK?
Here we go!
KRISTIAN READS OUT LOUD THE ANSWERS FROM THE EXERCISE.
Grow your C2 Vocabulary
OK let's look at the answers in detail.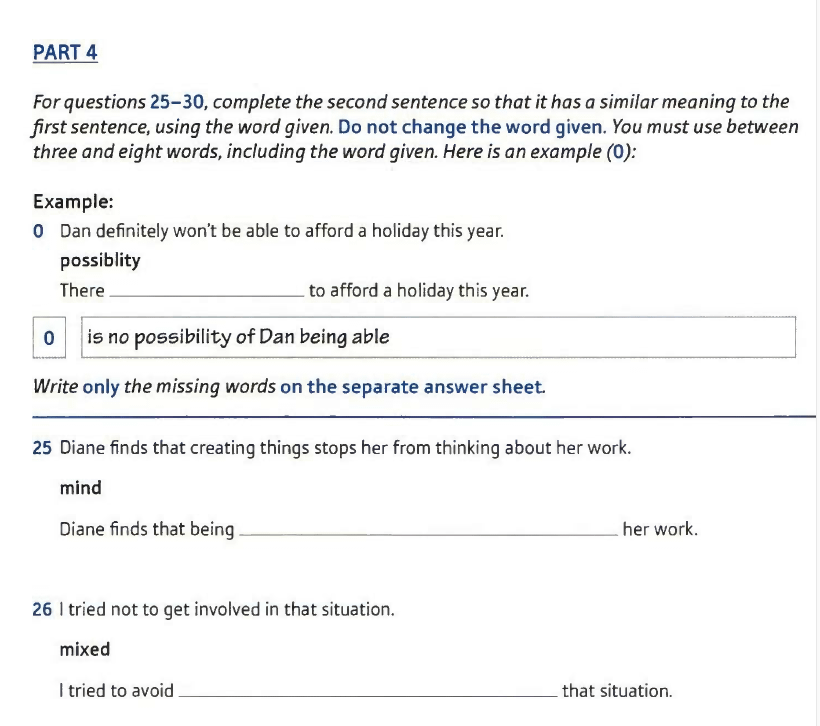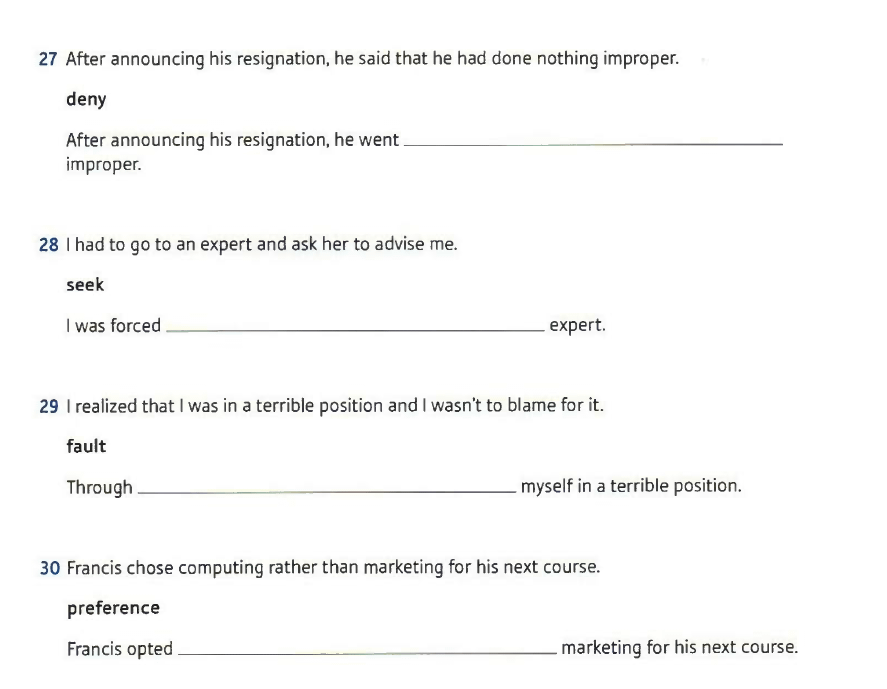 25. Creative / takes her mind off
26. Getting OR becoming / mixed up in
27. On to deny / that he had done OR doing OR having done anything
28. To seek advice OR to go and seek advice / from an
29. No fault of my own / I found
30. For computing / in preference to
Don't Forget to Check Out Instagram and Clubhouse
Alright, that's a wrap! I hope this was relevant and useful for you and that you've enjoyed listening to this episode.
As always, if you have any questions, thoughts, or feedback, you can respond via email or in the comment section of the transcript. I read and respond to every email or comment – try me 🙂
Before we finish, let me just point out that you can also find loads of specific C2 exam content on our Instagram page, and if you have an iPhone you can also join our C2 exam sessions on Clubhouse. The weekly schedule for these sessions is posted in the email newsletter and on Instagram.
OK, that's it. For now I want to wish you a pleasant day (or goodnight).
And as always, take care of yourself, and each other, alright?
Speak to you soon, bye bye!